Pure Excitement Comics is maintained by Bill Nolan.
Vol. 1 No. 22
June 2000


In This Issue:

Contents Page

Wildfire

Spacehawk

Chuck Magnon

Other issues!






Next Month:

Three great stories featuring Golden Age Mysterymen!






Bill Nolan's
Other Pages:

CD-ROMs!
CD-ROMs featuring more great reprints!

The Gallery of Golden Age Heroes!
A closer look at some great Golden Age characters!

Prescription
for Excitement!
A look at
classic "in-house"
comic book ads.

Home Page

Custom Action
Figure Page

[Return to Main Page]






Related Links:

Captain Comics
Home of the weekly comic book columnist for the Scripps Howard News Service

Golden Agers
A Yahoo club I started but abandoned, which has started showing signs of life again lately.

Big Shot
A great site focusing on that particular Golden Age title.

The Spirit
A great site dedicated to what was probably the best comic feature of the Golden Age!

Other Golden Age Reprints
James Ludwig's great Golden Age reprint site!

The Cheeks The Toy Wonder Home Page
A fantastic place for fans of Silver Age comics to explore!

A Guide To Marvel's Golden Age Characters
A rundown of some of the great characters I cannot feature here.

The Good Guys and Gals of the Golden Age Art Gallery
A great "who's who" of Golden Age heroes.

MicroComics
Offering affordable Golden Age comics on microfiche.

Comcs on CD-ROM
Offering Golden Age covers and stories on affordable CD-ROMS. Highly recommended!

Mikel Midnight Golden Age Directory
A great on-line resource for Golden Age fans. Great links.

AC Comics
Publisher of Golden Age Men of Mystery and more.




Welcome to the Letters Page, everybody! For more great reprints check out our back issues and the CD-ROM page. Here are some letters I received in response to both my Target CD-ROM and the last issue:


Wow! Bill! This is your best issue yet! The Lady Luck is, of course, slightly older than 1943, since it first appeared as a back to a Spirit section in 1942. The Steel Fist is a true jem! Interestingly enough, there's Dick Sprang in there (as inker, I believe). Note the Negative images on page 2 and 6. They are a tip-off, when you compare them to nearly any Batman that Dick worked on. Finally, the Micro Face is also a WWII jem! There's early Mort Meskin here and maybe Jerry Robinson, too.
All are lost classics and greatly appreciated!

John

John, glad you liked the issue. It felt like a strong one when I was working on it. I liked the art throughout the issue and can definitely see the artistic styles you mention. I'm not an expert on identifying artists, so it's great when I hear from someone with the info.

Dear Bill, I just wanted to let you know I've really enjoyed your site for some time now. You always seem to find a nice cross-section of golden-age heroes to represent stories of. I also appreciate your mentioning of Bill Black and AC Comics. They're my all time favorite. I'd love to see more stories of the Spider-Widow. I'd also like to see a Lynx story. It's too bad you're not able to publish more often. I know it's hard to maintain a monthly schedule but it seems so long between issues when you're reading them. Maybe you could have a special issue once in awhile, showcasing one particular hero or heroine. This would allow some extra issues, ocassionally, without committing to a more frequent publishing schedule.
Anyway, thanks again.

Richard Paulk

Richard, Thanks for writing to let me know how much you enjoy the site! Unfortunately, I don't own anymore Spider Widow stories, but I'll keep your request in mind if I ever do obtain any more. Also, I don't own any Lynx stories. I have a few on the Mystery Men Comics CD-ROM from www.comicsoncdrom.com, however, and urge you to pick that up if you haven't already. I'm not sure I could handle publishing more often. I originally planned to go bi-monthly, but that seemed too long a wait after just the first issue, so I switched to monthly. Sometimes I publish a larger-sized issue, but I don't want to dominate the computer too much producing extra issues -- my wife likes to use it once in a while, too! I think the CD-ROMs I'm just starting to offer are a good forum for exploring characters much more in depth. The CD-ROM format allows me to produce higher-quality reproductions, whereas the web site can be limiting because I want to keep image sizes relatively small to not hinder reading with long loading times.

Hi, Bill. This is the 1st Micro-face story I have read in my 65+ years -- really super. Also spent last 2 weeks reading & rereading the Target cd. Don't know how you can make such a great disc for such a cheap price. Be sure to save all your new cds for me; I want them and I want them fast so get moving, but do your usual great job.
Super site, super cd, keep it up.

Ernie Riley

Ernie, thanks for the kind words about PEC and the Target CD-ROM. I'm glad you enjoyed the CD as much as I hoped my fellow Golden Age fans would. I'm slowly completing a "Fighting Yank" CD-ROM and will let everyone know when it is done.

Hi Bill. As an admirer of your site, and Pure Excitement Comics especially, I didn't hesitate to order you reprint CD of "The Target and the Targeteers". Well after reading all 18 stories, I just had to e-mail you, and tell you how much I enjoyed them. Everything about the CD was great, including the layout which I found very easy to navigate. I recommend this to all your viewers, and guarantee it the best $10 spent. I look forward to any future offers, so please keep me informed.

Darrin Wiltshire
The Good Guys & Gals of the Golden Age

Glad to hear you enjoyed the CD-ROM, Darrin. I appreaciate the kind words about the design as well -- I worked hard on it and am happy the complete presentation has met with the approval of my fellow collectors. (Darrin and fellow Golden Age fan Richard Boucher are the creators of the Good Guys & Gals of the Golden Age website. A link can be found in the column to the left. Their site is highly recommended!)

Hi Bill. Just wanted to let you know I finished reading your "Target & the Targeteers" CD and found it to be absolutely terrific. Aside from the fact that it would cost a lot of money to buy those issues myself, it's really great to have in one place enough material to track the evolution of these characters over a period of several years. Keep up the good work and please let me know when you're ready to offer another CD.

Cheers, Dennis

Thank you, Dennis, for the really kind words!

That's it for the letters from the last month. See you next month!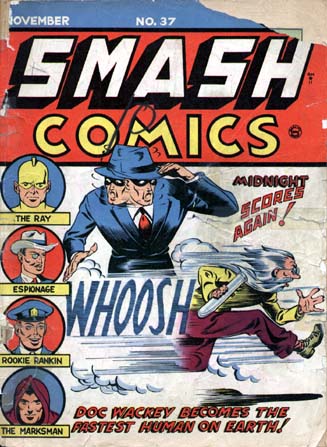 In the gallery this month is the cover of Smash Comics no. 37, the source of this issue's Wildfire story. Featured on the cover is the crime fighter known as Midnight.
Artwork originally ©1942 Everett M. Arnold

Click to subscribe to Excitement Central
and receive notification by e-mail whenever this site is updated!