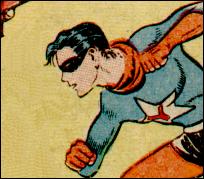 Yank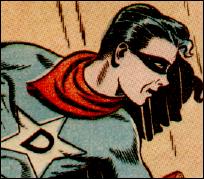 Doodle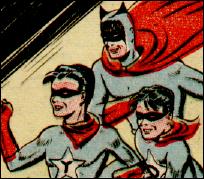 With the Black Owl
Character(s): Yank & Doodle and the Black Owl
Publication: Prize Comics No. 61
Publication Date: Sept.-Oct. 1946
Publisher: Feature Publications, Inc.


Yank and Doodle were twin boys who liked to put on snazzy costumes and fight crime. Their father was the Black Owl, but he was not the first hero by that name and his sons were in the costumed hero game well before he was...

In order to undertand the whole story, we must go back to the beginning -- all the way back to Prize Comics No. 1. A hero known as "K the Unknown" made his first and only appearance in that issue. Starting with the second issue, the character, society playboy Doug Danville, instead adopted the identity of The Black Owl.

In his initial appearances as the Black Owl, Danville dressed in a tuxedo with a strange mask. With issue No. 7, however, legendary artist Jack Kirby took over the feature and the Black Owl was given a more superhero-type costume.

Twins Rick and Dick Walters made their debut as Yank & Doodle in Prize Comics No. 13 and they enjoyed solo action until No. 34. In issue No. 33, Danville decided to give up the costume hero gig and joined the military. Starting with the next issue, Walt Walters, father of Yank & Doodle, donned the costume of the Black Owl. The strip was then retitled "Yank & Doodle featuring the Black Owl," and it ran through issue No. 68.
---

Information for this column was found in Howard Keltner's Index to Golden Age Comic Books, Bill Black's The Official Golden-Age Hero & Heroine Directory, and Greg Theakston's The Complete Jack Kirby (1940-1941). Additional reprints (the Black Owl stories by Jack Kirby) can be found in Theakston's fabulous book.